APIC Attendees Indicate Reducing HAIs Is a Team Effort
---
June 26, 2019
APIC Attendees Indicate Reducing HAIs Is a Team Effort
Who has more control over reducing HAIs in your facility: Infection Preventionists or Environmental Services/Housekeeping? This is a trick question, the 2019 APIC conference attendees pointed out in the survey conducted by Contec Professional, because the answer is both. Ensuring that the two teams are working toward common goals means each department sharing, yielding, and taking control depending upon the situation.
The IP professionals who visited the Contec Professional booth answered several questions concerning the working relationship between IP and EVS, and the responses painted a positive picture overall.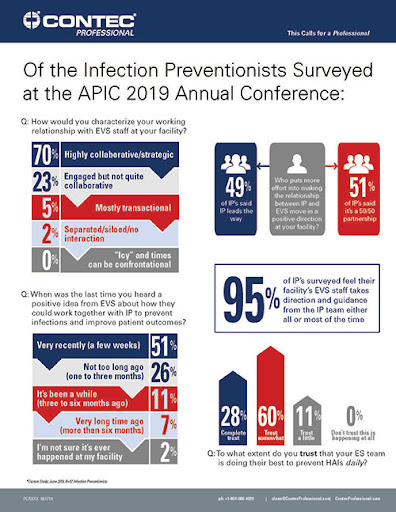 One of the key takeaways from conversations about the survey questions was that the more successful facilities seemed to have a stronger strategic alliance between Infection Prevention and Environmental services. Interested in learning more about getting your facility's EVS team aligned with IP goals? Contact us today.