Clean Buildings Expo 2019 - Day 1 Highlights
---
March 27, 2019
Clean Buildings Expo 2019 - Day 1 Highlights
It was a busy first day at the inaugural Clean Buildings Expo in Baltimore, Maryland. The conference featured key education session and new product information for in-house cleaning managers, executive housekeepers, facility managers, and principals in building service contractor (BSC) firms. Co-hosted with the National Facilities Management & Technology (NFMT) show, CBE attracted attendees from across the country to meet manufacturers and leading suppliers of floor and carpet cleaning equipment, chemicals, restroom supplies, and green cleaning products.
Day 1 - Take-Aways
One of the top occupational risks facing front-line today's EVS workers are health related issues. For example, housekeepers are exposed to disinfectants daily. If PPE isn't used correctly, this exposure can make cleaning professionals susceptible to major health issues like chronic lung disease and asthma. *

1



High-touch surfaces aren't regularly disinfected. In a study developed by Dr. Charles Gerba, the ease of cross-contamination from a frequently touched object come to life. Imagine a woman leaving her purse on the restroom floor, then putting that purse on the front-seat of her car or her kitchen counter—and just like that, germs spread. "Toilet seats aren't your enemy; these other items are." – Darrel Hicks *

2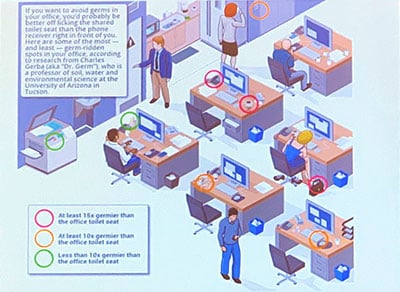 How do you motivate someone to wake up with a positive attitude for their job when they'll be cleaning up someone else's mess all day? This is a big challenge affecting all levels of the janitorial industry, especially in a competitive job market. Other management issues include keeping up with the latest technology, stemming the loss of end-user expertise, and of course — budgets. *

3



When it comes to daily-use cleaning tools, lighter is often better. EVS and facility maintenance professionals who stopped by the Contec Professional booth were delighted with how much lighter the new

ZeroGravity mop

. Trying it out on booth's vinyl flooring, CBE attendees remarked over and over again about how much easier the Contec mop handled compared to traditional mops. Paired with the patented

Premira nonlaunderable microfiber mop pad

, the ZeroGravity mop was one of the highlights of Day 1.
Favorite Quotes
"We need to have a microbiologist view of the world around us." – Darrel Hicks, BA, Master REH, CHESP (Director of Environmental Services GCI-Green Clean Institute)
"Challenge your janitorial team to think more about the future." Richard Navarro (Sustainability Workplaces Services Program Manager Google)
"A clean building doesn't mean a sanitary building." – Darrel Hicks
"Everybody thinks infection prevention is surrounding healthcare facilities but in fact it is probably more precedent in food processing facilities." - James Flieler (VP of Canada Sales Charlotte Products Ltd.)
"What you clean with matters." – Ron Sample (Technical Support Specialist)
Sources: