Return To Product Listing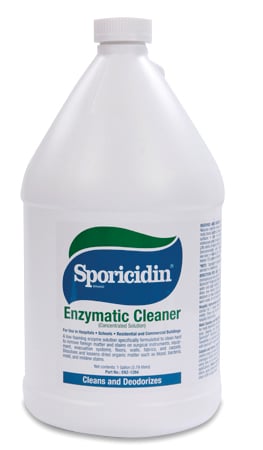 Sporicidin® Enzymatic Cleaner is a blend of enzymes in a low foaming solution formulated to loosen and remove dried debris, protein, blood, and mucin deposits. It effectively cleans both natural and synthetic fibers that have been soiled with organic and inorganic debris. Sporicidin Enzymatic Cleaner can be used in ultrasonic units, automatic washers, and evacuation systems. This highly effective cleaner and stain remover has a neutral pH and is biodegradable, nonflammable and nontoxic. This product is ideal for household, medical, dental, institutional, healthcare, veterinary, and clean room use.



Recommended Uses:


Carpet, fabric and upholstery cleaning

Stain and odor removal

Ultrasonic cleaning

Uniform and surgical scrub suit cleaning

Cleans clothing and linens

Safe for use in automatic washers

Removes blood and protein stains

Removes dried debris and mucin deposits

Cleans rubber, plastics, stainless steel, vinyl and much more

Deodorizes as it cleans




Features and Benefits:


Special blend containing both cellulose and protein enzymes for cleaning and removing material stains and breaking down both organic and inorganic debris

Contains enzyme preservative for added stability

Low foaming, concentrated formulation

Safe for use on rubber, stainless steel, vinyl, plastics, linens, clothing, carpets, fabrics and upholstery Reduces the need for manual scrubbing

Non-flammable, non-staining, and non-toxic

Mildly alkaline (pH 7.5)

Economical highly concentrated formula - 1 ounce makes 1 gallon of cleaning solution

1 gallon (3.8 L) of concentrate makes 128 gallons (484.5 L) of solution

55 gallons (208.2 L) of concentrate makes 7040 gallons (26,649 L) of solution




Directions for Use:


For specific use site directions, see product labeling. For all applications, always test in inconspicuous areas prior to full product usage.

General Use Instructions: Add 1 ounce of Sporicidin Enzymatic Cleaner concentrate to one gallon of luke-warm water. Apply solution to surface or material to be cleaned. For dried organic matter and heavier stains, use 2 ounces to one gallon of warm water. Allow solution to remain in contact with surface for a minimum of 1 minute using light scrubbing, if necessary, to remove debris.

Do not mix with any other chemicals.

As with any chemical, precautions should be taken to minimize or prevent exposure to mists, lingering vapors, or residuals, which may cause discomfort or aggravate existing health conditions.
Read More
Features & Benefits
Removes blood, protein stains, dried debris and mucin deposits
Cleans rubber, plastics, stainless steel, vinyl and much more
Deodorizes as it cleans
Part No.
Description
Size
Packaging
Sample
Description
Sporicidin Enzymatic Cleaner
Sporicidin Enzymatic Cleaner
Size
1 gallon (3.8 L) container
Description
Sporicidin Enzymatic Cleaner
Sporicidin Enzymatic Cleaner
Size
55 gallon (208.2 L) drum