2018 AHE Exchange Proves Successful for Contec
---
October 16, 2018
2018 AHE Exchange Proves Successful for Contec
The Contec Professional team wrapped up another successful event; this time, it was The Association for the Healthcare Environment (AHE) conference in Columbus, Ohio. At the 2018 AHE Exchange show, we learned several key things. Some of them we already knew, while other things surprised us. For example, the complexity of the Healthcare Laundry Accreditation Council (HLAC) standards can often hinder EVS leaders who are doing their utmost to help with safety and infection prevention. More than half of the attendees we surveyed said that they were either lacking in or unsure of their familiarity with the rigorous HLAC standards. And only 8% of survey respondents correctly answered that the standards require more than 100 steps to properly process a load of used healthcare textiles.
The seminars at the 2018 AHE Exchange were especially informative. Andrew J. Steifel, MPH, REHS – University of Minnesota and Lynn M. Sehulster, PhD, M (ASCP), CMIP Environmental Infection Prevention, LLC discussed the steady increase over the last decade of fungal infection occurrences attributed to textile laundries. There have been 13 published outbreaks in 44 years worldwide attributed to laundered healthcare textiles, including contaminates from Bacillus cereus, Acinetobacterspp, Aspergillusflavus, and C. diff. Laundry is often contaminated due to the large variability in the process; contamination sources include transit, recycled water, improper storage, incorrect processing, dust from construction, contaminated equipment, and much more. It is also easy for laundered textiles to get dropped on the floor and placed back on the shelf—just because it doesn't "look" dirty.
Lisa Ford, an EVS expert with over 20 years of experience, spoke to a packed room about the need for more awareness and a push for excellence in environmental services. She discussed the challenges EVS techs face, from navigating recruitment hurdles to unreasonable expectations placed on untrained staff. These techs are often willing to perform at a higher level but just haven't been given the proper training.
"EVS technicians are infection preventionists! Let them know how critical they are." Lisa Ford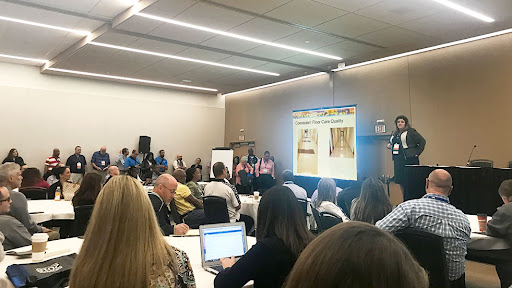 Contec Professional also helped educate EVS professionals about the ineffectiveness of relaundered microfiber. Dr. Mark Wiencek presented his clinical poster, "Effectiveness and Bioburden of Microfiber Mops," via video for audiences in the booth throughout the conference.
Our goal at the 2018 AHE Exchange was to shed a light on the dirty secrets of a broken laundry process – one that all too often undermines the hard work I/Ps and EVS staff put in every day to support quality patient care.
We surveyed the environmental services workers and heard many grisly stories about seeing hair in freshly laundered mops and particles lodged in their "clean" mops. When we asked if they would drink out of a glass that had been wiped with a randomly selected, freshly laundered cloth from their facility, over 50% answered that they wouldn't. Further questioning revealed that almost a third of respondents had actually seen trash, debris, and/or hair in freshly laundered textiles. Another quarter of respondents admitted that they lacked complete confidence in their facility's laundering process.
­­The 2018 AHE Exchange attendees confirmed what Contec Professional already knew: EVS professionals want to be 100% confident that their tools are the most effective way to clean. With Contec Professional, they can be.